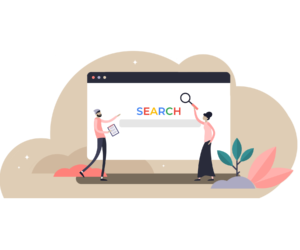 A stunning design is just the start: it won't produce the desired effect if your customers can't find you. Search Engine Optimisation (SEO) is a fundamental part of your website's success, and our SEO services will help.
SEO, which stands for Search engine, optimisation is the process of improving the position that a website appears in the "organic" search engine results page (SERPs) returned by search engines such as Google, Yahoo and Bing.
Search engine optimisation involves using a number of marketing techniques to improve a website's search engine rankings and visibility, driving more organic traffic. By connecting your business directly with consumers – right at the time when they are actively searching for your products and services, you can expect to improve conversions, increase leads, and turn more traffic into dedicated customers.
What is SEO?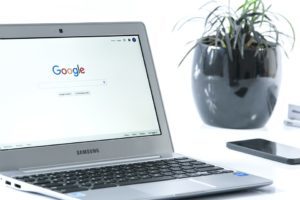 It is a well publicised fact that 80% of Google users don't click past page one, and 33% of Google users click first the result in the organic search results. This means the higher up in the results you appear, the more website traffic you'll receive.
Search engines use many different techniques when ranking a website in its search engine results pages. One of the big factors are keywords. Keywords should be a main pillar in any good strategic SEO campaign. They appear in:
The coding of each page e.g title tags, meta tags, image tags.
Content strategy (Building and optimising good quality, interesting and branded content)
Link earning (Building brand awareness to earn or build valuable links)
And many more…
A robust and well-built SEO strategy is one of the best marketing investments you can make and can save businesses money in marketing and advertising costs.
---
Why you need an SEO expert
Many companies promise to get your website ranking on the first page of Google within a week. And yes if we focussed solely on irrelevant keywords, we'd promise that too. But that would be a waste of your money and our time. We're only interested in achieving higher rankings for keywords that matter to your business products and services, and that's a whole new ball game.
Thankfully long gone are the days when a huge amount of links to your website was enough to move it to the top of Google search. Now it takes a much more measured and strategic approach.
Every business; yours, ours, your competitors, rely on new customers to drive growth. SEO campaigns are one of the most cost-effective ways to increase online visibility, and therefore, increasing leads, conversions and potential new customers.
Whether you are planning your first or tenth SEO campaign, there are many reasons you should work with a professional SEO Yorkshire company.
It's a fast-moving industry. Luckily we've always got our fingers on the pulse ready to make the next change. Competitors improve their strategy, Google change their algorithm, and online behaviours and trends evolve.
If you're in a crowded industry, competition for keywords and rankings may be high, and, as a result, it could take your website a long time to rank for certain keywords. We are experts in keyword research. We build a robust and bespoke keyword strategy that works for your business.
Choosing the wrong keywords is often the reason an SEO campaign fails.
Search engines penalise for black hat tactics. There are many rules and guidelines we must follow when carrying out an SEO campaign. "Keyword spamming" is a big one – stuffing too many keywords into your content is a big no-no and one that Google takes seriously. We make sure everything is within the rules.
Natural link earning, previously known as link building, is very important but difficult, time-consuming and requires a high level of knowledge and experience. We have that knowledge and experience.
Search engines, like Google, Yahoo and Bing, continuously make changes. One day a link pointing at your website might be helpful, the next day it could be potentially damaging. We're good at identifying why rankings might fall. Bad or manipulated links often cause keyword rankings to decrease – and sometimes for extended periods of time.
We love a challenge. We wouldn't be SEO experts if we didn't. To overcome these challenges you need a trusted, knowledgeable and professional SEO Yorkshire company that can take hold of the reigns and deliver you results that make a difference to your business.
---
Why Invest in SEO Yorkshire Services for Your Business?
There are many aspects that contribute to whether search engines like Google favour your website in search results:
Optimum download speed
Responsive design across all devices
Smart internal and external linking strategy
Fresh images and original content updated regularly
Well-researched keywords popular within your target market
How Our SEO Services Work
SEO is no longer a black art, it just needs a lot of thought and research to reach the right audience for your sector:
A consultation to find out what keywords you want to rank for
In-depth keyword research
Website optimisation according to the agreed set of keywords
Boosted rankings and increased visibility
Detailed progress reports outlining, analysing and interpreting your growth
SEO is a long-term strategy. You may experience an initial spike in ranking due to increased activity, but you need to maintain this visibility. To do so, your SEO needs to be nurtured over time, which requires a consistent and committed approach.
Even the bitterest fruit has sugar in it.
Thyme
This herb has phenolic compounds that may have antioxidant, anti-inflammatory, and antimicrobial activity as well as beneficial effects on cardiovascular disease (2).
30-day diet plan for weight loss
Oregano
Oregano contains carvacrol, a powerful compound that may help boost weight loss. One study in mice on a high-fat diet that either contained carvacrol or not found that those that received carvacrol gained significantly less body weight and body fat than the control group (5). This herb may also improve brain health by protecting nerve cells from damage caused by free radicals.
Chili Peppers
Cayenne pepper is one popular variety of chili that has been shown to have several fat-burning properties. It contains capsaicin, a compound that has been shown to boost metabolism, reduce levels of the hunger-stimulating hormone Ghrelin, and promote feelings of fullness (7).
Garlic
Garlic is a natural appetite suppressant. Research has found that garlic supplementation resulted in a decrease in waist circumference (19). For this reason, it's best consumed raw or fermented. Use garlic as an ingredient in your meals for tasty results.
Ginger
In addition to speeding up digestion, ginger increases energy levels and stimulates metabolism due to its active compound called gingerol (3).
Cinnamon
Cinnamon has been linked with lower fasting blood sugar and triglyceride levels (8). It also may reduce belly fat and improve cholesterol levels.
30-day diet plan for weight loss
Nutrient-Dense Foods
Most people don't get enough of the nutrients found in whole foods. By following a diet that's rich in nutrient-dense foods, you'll have better health and be more satisfied with less food (6). Foods that are nutrient-rich also come in low calories. Examples of nutrient-dense foods include:
Vegetables such as broccoli, cabbage, kale, spinach, sweet potatoes, onions, and celery
Whole grains such as brown rice, quinoa, oatmeal
Legumes such as lentils, beans (kidney beans, black beans), and peas
Fruits such as apples, bananas, pears, peaches, and berries (raspberries, blueberries)
When creating your weight loss meal plan for the next 30 days, make sure you include plenty of these foods in every meal. You'll not only feel more energized and satisfied throughout the day, but you won't have to worry about micronutrient deficiencies.
If you're new to cooking or don't like the taste of certain whole foods, there are many ways to make them more enjoyable. Add spices that improve their flavors, such as cayenne pepper, oregano, thyme, cinnamon, and ginger. You can also add fresh herbs for a change in flavor like parsley, dill, mint, and basil.
30-day diet plan for weight loss
Healthy Fats
Fat is an underrated source of energy and building block for hormone production. It helps repair cells while also helping keep us satiated throughout the day. Omega-3 fatty acids, for example, have been linked with increased fat loss (14). Furthermore, fats are a must-have in a vegan diet for weight loss 30-day plan because some nutrients found in fruits and vegetables can't be absorbed by your body in the absence of fats.
See also
Shokuiku Diet: The Japanese Approach To Nutrition
Healthy fats are found in:
Nuts and seeds such as almonds, walnuts, cashews, flaxseeds, chia seeds, and sunflower seeds
Fatty fish like salmon, tuna, and trout
Animal protein such as free-range eggs and grass-fed beef
Plant sources such as olives, nuts oil (coconut oil), avocados
Complex Carbohydrates
Complex carbohydrates tend to be low on the glycemic index. This means that they don't cause spikes in blood sugar levels which can help prevent overeating later on. They are also more filling than simple carbohydrates because they are digested slowly (4). While they may not feature much in a 30-day keto diet plan for weight loss, you can still have them in moderation while on other diet plans.
Examples of complex carbs include:
Whole grains such as brown rice, quinoa, oatmeal, and whole-grain bread or pasta
Legumes such as lentils, beans (kidney beans, black beans), and peas
30-day diet plan for weight loss
Sample 30-Day Diet Plan For Weight Loss
So, you know what to eat and what to avoid for 30 days to reach your goal. But what does a calorie deficit look like?
Here's a sample one-day 1500 calorie meal plan that can help you shed weight:
Day 1
Breakfast: 1 serving vegetable with 3 egg Scramble (33g carbs, 29g fat, 29g protein, and 511 calories)
Lunch: 2 servings cucumber slices with 1 strawberry protein smoothie (27.6g carbs, 11.6g fat, 53.6g protein, and 371 calories)
Supper: 2 servings of beef stir fry (58g carbs, 17g fat, 47g protein, and 586 calories)
Total daily calories: 1513 calories
Day 2
Breakfast: 2 servings of spinach and mushroom breakfast scramble with 1 cup of strawberries (23.3g carbs, 10.9g fat, 60.3g protein, and 430 calories)
Lunch: 2 servings of mango strawberry arugula salad (65g carbs, 23.1g fat, 9.2g protein, and 457 calories)
Supper: 2 servings of pasta with red sauce and mozzarella (95.2g carbs, 14.3g fat, 32.3g protein, and 617 calories)
Total daily calories: 1504 calories
Day 3
Breakfast: 1 serving powerball smoothie (38.1g carbs, 43.9g fat, 5.4g protein, and 528 calories)
Lunch: 2 servings of turkey lettuce roll-ups with 2 ounces of almonds (17.5g carbs, 30.9g fat, 30.3g protein, and 447 calories)
Supper: 2 chicken wraps (49.2g carbs, 11.6g fat, 47.9g protein, and 505 calories)
Total daily calories: 1480 calories
30-day diet plan for weight loss
BetterMe
DISCLAIMER:
This article is intended for general informational purposes only and does not address individual circumstances. It is not a substitute for professional advice or help and should not be relied on to make decisions of any kind. Any action you take upon the information presented in this article is strictly at your own risk and responsibility!